Yeelight Aurora Lightstrip 1S V3 2020 (3rd Generation)
Ready Stock and 3 Months Warranty
The Yeelight Smart Light Strip v2 2020 Extendable version is 2m and can be used as it is or you can extend your Lightstrip up to 10m long. The 1m extension pack needs to be purchased separately.
MEET AURORA The Most Universal Light Strip with AI
As the best alternatives to Philips hue light strips with only 30% price, Aurora, the smart, LED, dimmable, colourful and extendable light strips, would light up your home with your imagination.
Choose from over 16 million colours to set the mood of a room, highlight furniture or fixtures or create architectural features in your living spaces.
The aurora can help to create a right atmosphere for almost any indoor scenes, such as, run them along shelves, under a TV, around room and stairs, or highlight the furniture or wall, etc. Thanks to the flexible material and extendable features, it can either provide long-lasting large ambient light for the whole room or the small atmosphere for the private corner.
Compatible with Google Assistant and Alexa, Aurora give the users the opportunity to give some creative flair and make something smarter and more special.
FEATURES
Yeelight Aurora could be applied to various areas of our daily life. It could improve the atmosphere of your home to provide you and your families a happy time. In addition, to enhance the illuminating brightness of your house, it could notify you to do whatever you plan. With the beats of music, Yeelight Aurora even could change colours.
How Does IT Work?
AI Controlled and Smart Button
The Aurora's compatibility with Amazon Alexa, the Google Assistant, IFTTT, and MIJIA, combined with multi-language skills, give us the chance to use our home-tune to control the light strip on an Amazon Echo, a Google Home, or any other smart devices. Of course, the Yeelight App and smart button also provide the most powerful function that creates the atmosphere for special moments.
Flexible printed circuit and PU adhesive
The FPC is the fundamental of the light strip. The flexibility of light strips depends on the consistency and stability of the performance of light beads in the strip. The following pictures contend the best quality FPC and latest automatic welding technique by Yeelight Aurora.
The adhesive of Yeelight Aurora is mercury-free PU adhesive, which is anti-aging, resistant to bending, environment-friendly, much more expensive than other adhesives and certified by SGS. As for the glue dripping process, Yeelight Aurora adopts non-dust free automatic dripping.
ID Design and Aided tape handles
Yeelight devotes a lot to designing the circuit layout and screen printing. The picture below shows the difference between Yeelight Aurora (the bottom one) and other light strips. For perfect appearance, the redundant solder spot, bare circuit, redundant words, and signs are removed. Yeelight also opens a mold to protect the two ends of Aurora light strip, to prevent the virtual welding.
In addition, Yeelight designs two aided tape handles (like the following picture) for users to open back tape easily.
Can be Cut
DIFFERENCES BETWEEN YEELIGHT AURORA AND OTHER LIGHT STRIPS
MORE FEATURES
Pick the colour from items
By simply adjusting the colour upon the colour panel or pick a specific reality colour by phone lens, you can easily create the ambient lighting for the party, accent lighting to highlight some special features, task lighting for up-close work, or a flattering glow for a romantic meal.
Alarm to wake you up
By setting the sunrise option, the strip will begin a gradual sunrise where the light gets brighter and colder as it gets closer to your actual wake up time. Let's illuminate the whole day life by waking up around with this coloured sunrise simulations.
Sync with Cooking Clock
There are reasons why you might want to set a timer for your lights. Maybe you're cooking with a sleeping baby in the house and you don't want your traditional loudly one ring when it hits zero. In that case, you can set your kitchen lights to blink, or even change them to a different colour to let you know that your brownies are done.
Or, maybe you know you're going to fall asleep reading, so you want your lights to automatically turn off in a half hour or so. Essentially, Aurora can be the sort of a silent alternative to loud timers and provide you with a visual alert rather than an audible one.
One touch to change scenario
Aurora provides multiple recommended formulas for universal scenarios, sunrise, sunset, dating night, movie, birthday party, romance, home, flash notify, candle flicker, and continuous upcoming ones. Just one simple touch, Aurora would make the scene come to life that's best suited to the mood.
Brightness
As a LED light strip, Aurora can be used to highlight the painting, bookshelf, works of art, or any other certain elements. In addition, it can also provide sufficient brightness for reading and working scenarios.
Disadvantages of Other Light Strips
Beyond illumination, the ultimate magician of lighting
Flexible, Million colours, Wi-Fi enabled
Flexible PU gel design
With the mercury-free soft PU gel, it is easy to bend the light strip and fit your furniture.
Easy to install Light Strip
Adhesive tape on the back, designed for your easy installing
DIY your home with colour
Thanks to the flexibility, it allows attaching the light strip to anywhere you want, such as behind the TV, under the sofa, around the artwork, under the bed, and etc. With the indirect light, your home will be decorated to what you want.
Remove adhesive tap, and paste it
We provide you with a plug and play product, just remove the back adhesive tape, and past it to wherever you like. It is easy to use and fast to change your living atmosphere.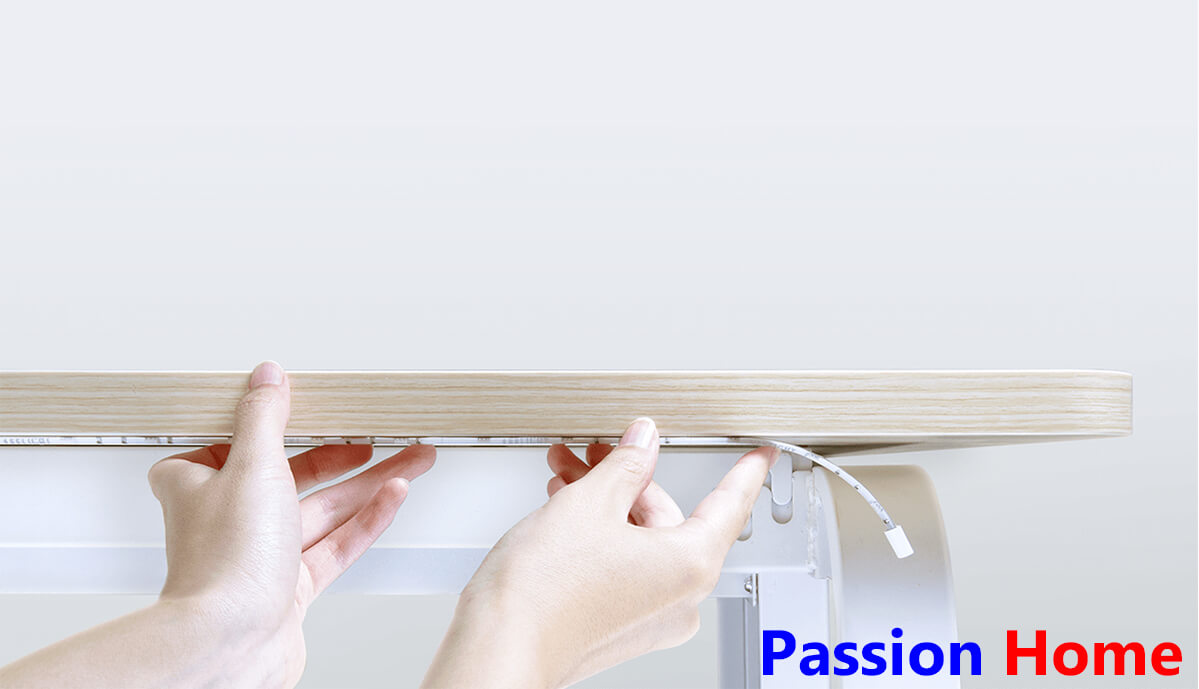 Dance with light and music
Combine your favourite music with family lighting, feel the rhythm of light. Download the YEELIGHT APP, get the party started with the YEELIGHT light strip.
Just one button, get special scene
You can switch the light strip on or off by pushing the button or change the colour by long pressing. Above all it's useful at night when you are too sleepy to find your smartphone for control.
Automated with other devices
The light strip can be integrated with Xiaomi eco-system, and co-work with other devices.
Switch lighting from preset scenes
From blue to orange, night light to high brightness, just use preset scenes in YEELIGHT APP. This provides you with a fast way to get the colour you like.
Your romantic moments, just a colour light strip
At everywhere in your home, just using a light strip, the colorful light builds your romantic space

Appearance
| | |
| --- | --- |
| Model No. | YLDD05YL |
| Length | 2m extendable to 10m |
| Color | White |
| Dimensions | 171x47mm |
| Weight | 400g |
Specifications
Communication Mode

Wi-Fi IEEE 802.11 b/g/n 2.4GHz

Color Adjustable

16 Million Colors

Brightness

1%-100%

Power

7.5W – 2m

26.6W – 10m

Adapter Voltage

100-240V~50/60Hz 0.09A – 2m

100-240V~50/60Hz 0.3A – 10m

Lifetime

25000hrs

Product Include

Lightstrip & User Guide

Platform Supported

(a) Android4.4 and above system;

(b) IOS7.0 and above system.